Map Unavailable
Date/Time
Date(s) - 07/12/2018
6:00 pm - 9:00 pm
Location
Doubletree Suites
Categories No Categories
Probates Leads, Pre Probates, Inheritance, Divorce, Code Violations, Evictions, Lis Pendens, Auctions, Absentee Owners, Tax lates and Cash Buyers just to name a few.
Come see Tangie Cousins our Senior Account Manager, at our vendor table at the event.
Contact Tangie for more details or visit the event http://tampareia.com/
Tangie@ForeclosuresDaily.com
813-563-0005 ext. 2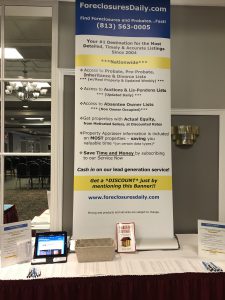 Foreclosures Daily (www.ForeclosuresDaily.com) is a nationwide lead provider that has been in business since 2004. We are the Internet's number one destination for the most detailed, timely and accurate information.
What We Offer
We provide leads to suit your real estate needs such as Probates Leads , Pre Probates, Inheritance, Divorce, Code Violations, Evictions, Lis Pendens, Auctions, Absentee Owners, Tax lates and Cash Buyers just to name a few.
How We Are Different
The leads provided by Foreclosures Daily will have real estate attached and will be delivered fresh either Daily or Weekly. Property appraiser's information is included on most properties, saving you valuable time on certain data types. Most Companies do not provide daily and or weekly fresh data as we do. They are typically quarterly and are not farmed for real estate. This means you would be marketing to people who have no property and are 3 months old. We here at Foreclosures Daily understand the importance of having fresh data.
Who Uses our Lists
Our lists are used by Investors, Realtors, Attorney's and a wide variety of other real estate professionals on a nationwide level.
3 Hottest Leads and why
Probates Leads by far are one of the best leads nationwide you can get! They have the most equity. They typically don't mind taking a discount and are extremely motivated to sell their properties. When people lose their parents they are usually not children. They are typically 50-60 years old themselves. They will almost always have their own home. This will make for an extra property that they will more than likely want to sell. Which means a very motivated seller.
Pre-Probates are also an excellent lead source! The difference between a Probate and a Pre-Probate Is a Probate means that the Probate has already been filed and a Pre-Probate means that the Probate has yet to be filed. It is typically a very short time after the death. So marketing must be very basic and generic. The benefits of working a Pre-Probate lists is that you will be one of the first at the door. The advantage is that some of these people will inherit the property via a trust and may not have to go through the Probate process at all.
Absentee Owners (Out Of State verses in State)
Absentee have proven to be another great list! When working an absentee owner list. You need to decide which one will be better for you, In State or Out of State. When ordering Out Of State Absentee Owners you tend to get a more Motivated Seller due to the fact that they are not in the same State as their property. They cannot oversee their property and are less in touch with it. When ordering In State Absentee Owners you are dealing with more of a landlord situation. Both are fantastic and have shown some great results.
Unique Marketing
We recommend using a 4 to a 6 step mailing campaign over the next 6 months. Being first at the door and being consistent with marketing is very crucial when you are investing. "The early bird gets the worm" and "The squeaky wheel gets the grease" really comes into play when it comes to marketing to these type of lists! Using unique marketing techniques will also help ensure that your mail gets opened. Unique Marketing techniques such as, Different sized envelopes, Colored letters, Hand written letters, Special markings and certain statements on the back of the envelopes can also help.
Benefits of using our Lists
An Investor can benefit from our lists in many ways. With us doing their research will save them time to focus on revenue generating activities such as, Wholesaling, Rehabbing and Flipping properties. A Realtor can benefit from using our lists by increasing their listings and also helping their investor clients to find good deals that they otherwise would not have found. An Attorney can benefit from using our lists by increasing their clients. By using our lists, you will have access to the hottest leads nationwide, beat the competition and get properties with actual equity from motivated sellers. You will learn insider's tips and gain a competitive advantage. At the end of the day, the only way that we can gauge our success as a Company, is by your success as a client.
Since 2004, the Internet's #1 Destination for the most Timely, Detailed, & Accurate Foreclosure Listing Information!