Meet the expert in the Real Estate Wholesale Vance Courtney
January 17 @ 6:00 pm

-

7:30 pm

EST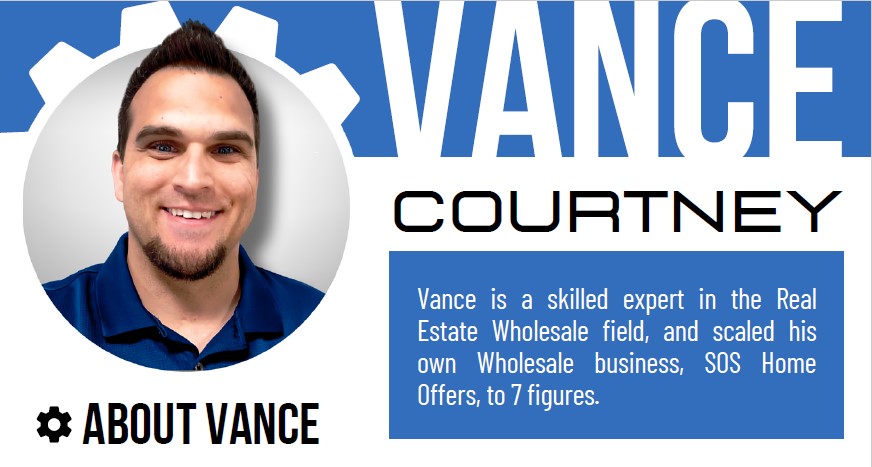 We welcome our customer Vance Courtney for our January 17th, 2023 webinar.
Vance Courtney is a former military vet who has a wholesaling business out of Augusta, GA with his beautiful wife and business partner Jackie Courtney. As a former systems/software engineer he leverages his experience with systems, automation, and technology in his real estate business. Systematizing and streamlining processes for efficiency is his niche. His expertise has been applied in the Department of Defense, Industrial Control Agencies, the National Security Agency, real estate, and education.
TALKING POINTS
Vance is a skilled expert in the Real Estate Wholesale field and scaled his own Wholesale business, SOS Home Offers, to 7 figures. His newest venture is helping to transform solopreneurs from the hustle & grind to entrepreneurs in business owners by implementing efficient systems, effective leadership, and unique culture. Vance provides a business operating system framework, tools, and processes for an overall systems implementation for others to self-implement.
BONUS
Vance will promote this podcast to his thousands of followers online and his entire email list.
Want to interview Vance on your podcast SCAN QR CODE to book now

January 17th, 2023@ 6:00 pm

 – 

7:30 pm

 

EDT