Active Community of Real Estate Entrepreneurs (ACRE)
December 5 @ 5:00 pm

-

9:00 pm

EST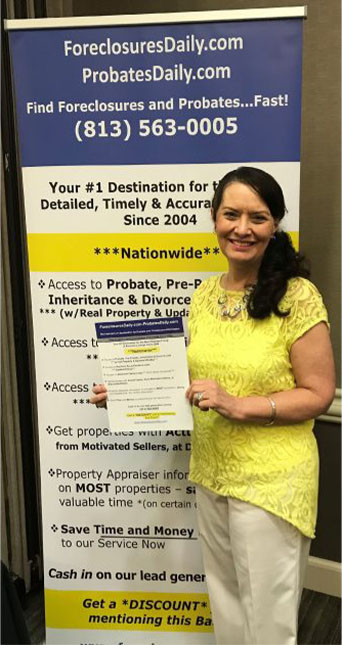 Jane Zacharias
Pittsburg Representative
Who are we?
Supplying the industry's hottest off-market real estate leads. Many of our customers have come by referral since 2004. Getting you first on the scene at warp speed with a seller of real estate is what separates us from our competitors. Our data consists of only real estate entering the wholesale market and off the retail grid. Our Products are Code Enforcement, Divorce, Eviction, Foreclosure, Inheritance, Probate, Pre-probate, and customized data. Doing the research will save you time, so you can focus on revenue-generating activities such as wholesaling, rehabbing, and flipping properties.
Furthermore, we gauge our success as a company by the success of our customers. The last thing you want is to market to people with old data. We have heard horror stories of wasting time and money only to discover the real estate sold months ago. Do not let it happen to you. Networking at the Active Community of Real Estate Entrepreneurs (ACRE)
New to real estate investing
Investors and others in the real estate profession attend meetups and clubs—an excellent resource for networking for new and seasoned investors. Meet our staff and customers at Active Community of Real Estate Entrepreneurs (ACRE). See our calendar of upcoming events near you.
Are you competing for real estate?
Off-market listings of homes may be for sale but are not on multiple listing services (MLS). Unfortunately, circumstances such as Foreclosure and Probate motivate the seller to sell. There may be a financial dilemma or an owner looking to exit the property quickly. Get wholesale Off-Retail-Market leads off the radar at ACRE of Pittsburgh.
Who uses our product? 
Attorneys growing their practices
Many more ………….